When Made in Studios meet the Money Maker Show!
| Izzy - 09/06/2021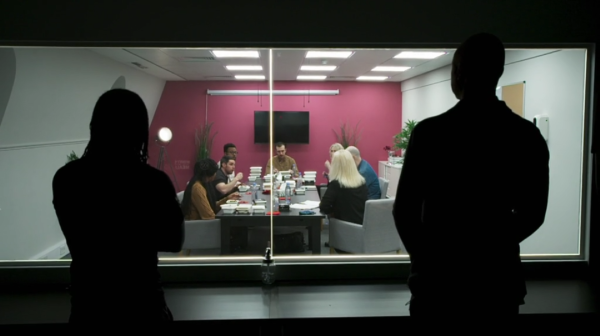 The show:
When Entrepreneur Eric Collins visits Winny's Meals in Birmingham for the Money Maker show, where else to hold a focus group to put the current menu to the test but in the dedicated Market Research space by Made in Studios! In the current economic climate and with the business sector on its knees, this new series seeks to show that shrewd decisions can help businesses navigate the post-pandemic economy and still deliver a profit. That's exactly when Market Research is needed to support these decisions. To the owner Shaun big surprise, the focus group results were catastrophic. With £120k of his own money invested in Shaun's business, Eric has no option but to change everything, but will it work? And can he regain the loyalty of Winny's online customers and also help Shaun successfully pitch the all-new Winny's brand to one of the UK's biggest supermarket chains? To see the episode,
Click here
If you can't see the video,
Click here
Made in Studios' mission:
The Winny's meal project came with the added challenge of being filmed as part of a TV series for Channel 4 during the pandemic, in January 2021. It involved not only the safety Covid procedures but the need for rigorous Covid testing ahead of filming to allow for an organic feel to interactions. Our team was specifically trained and facilitated the testing and made doubly sure to keep everyone well informed in advance about all the procedures. The preparation started well in advanced in autumn of 2020 and kept us busy and excited about having a F2F focus group to be aired on C4…. Although this research was outside of the norm, as a result of the rigorous pre-planning and hard work, the filming went without a hitch and lead to a successful TV series which aired on Channel 4 on the 18th May.
And the feedback…
"Running an extended group session with food testing and TV film crew present during Covid lock down period would be a daunting task for any studio, but in January 2021 Made in Studios handled everything in their usual professional, calm, efficient, approachable manner. All participants, staff and crew were flow tested, social distancing kept at all times by sensible and innovative use of the studio's substantial spaces, food was served in the original containers, respondents had their own utensils and water. Throughout all this meticulous organisation Alex and her staff cultivated an atmosphere that ensured everyone was at their ease." Fiona Welch, Consultant at QFRS
Contact the author of the article:
Izzy Nurdin
Client Development Director
Share this article:
Poll of the day
76%
of UK respondents consider themselves to be introverts
See more