Made in Studios during Covid
| Izzy - 19/11/2020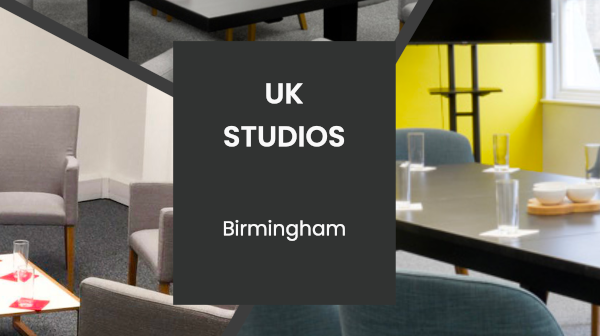 The Made in Studios teams
are delighted to inform you that
our studios in Birmingham have all necessary measures for safe research.
So that we can welcome you to the studios with complete peace of mind, and work with you safely, we have redesigned our rooms and processes to meet the government's hygiene recommendations, and will strive to do our best to keep everyone safe while maintaining the usual standards of friendliness and professionalism you have come to expect from us.
Our facilities have been redesigned to allow your face-to-face fieldwork to take place in a safe and secure environment.
Below, you will find the main measures that we have put in place. Please do not hesitate to contact us for further information and more details on the measures in our Hygiene Policy guide.
Our Teams are continuously keeping themselves updated with the latest government announcements in order to make sure we are always fully compliant with the latest measures.
- FACILITIES -
| | |
| --- | --- |
| •   | A4 displays reminding visitors of social distancing and hygiene rules throughout all premises (given to all participants before the research: Rules and Best Practice Guide) |
| •   | Mandatory use of hand sanitiser stations upon arrival and self-service hand-sanitiser stations available at different points on the premises |
| •   | Room layouts and floor markings aimed at maintaining physical distancing |
| •   | Restricted access to communal reception areas, break rooms and toilets to limit non-essential movement |
- SAFETY-
| | |
| --- | --- |
| •   | Designated COVID-19 officer at each of our sites and teams trained on hygiene rules and the different situations which may arise |
| •   | Premises cleaned and disinfected thoroughly by our maintenance team before opening, and over the course of the day by our trained Made in Studios staff |
| •   | Masks are mandatory for everyone in communal areas (clients, participants, external people, etc.) |
| •   | Participants and moderators provided with visors for improved audio capture during recordings |
| •   | Rules and Best Practice Guide and Declaration of Health sent to your participants, ensuring that we can welcome them to the studios with peace of mind |
- ORGANISATION -
| | |
| --- | --- |
| •   | Studio rooms are booked at staggered times and a limited number of rooms are open to avoid over crowding |
| •   | There is an interval between each group/interview to allow for thorough cleaning and breaks are limited to avoid unnecessary movement around communal spaces |
| •   | Capacity limited to max. 8 people per studio room (including moderator) and 2 observing clients (masks required) |
| •   | Kits for participants, moderators and clients prepared in advance containing, at a minimum: a bottle of water, a coffee pod, pens and paper, a small snack. Kits can be customised to suit your needs |
| •   | Promotional offer available on our video streaming service to help your clients avoid travelling to the studios |
Made in Studios also takes maximum caution when recruiting participants to limit risks in the studio room: we ask about their health, remind them of the rules and best practice, and provide instructions to follow in the room to ensure the best possible conditions for participation.
| | |
| --- | --- |
| | Our On-Qual online tool is also available for your focus groups, interviews and online communities. Please feel free to get in touch for your own personal demo. |
The entire Made in Studios teams are on hand to answer your questions, adapt to your needs and take the utmost care when organising your fieldwork.
Stay safe!
Contact the author of the article:
Izzy Nurdin
Client Development Director
Share this article:
Poll of the day
76%
of UK respondents consider themselves to be introverts
See more